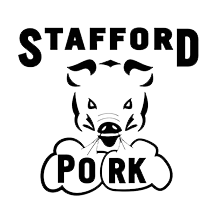 We are Maryland, Delaware, and Pennsylvania's premier provider of Pork. We are located in North East MD. Our locally raised, premium pork is a product of genetics, quality feed, and proper care. There are NO GROWTH HORMONES used at any time. Our hogs are raised on our family farm. They are always treated humanely and fed only the best feeds, mostly grown on our farm. You should always know as much.
We specialize in Quarter, Half, & Whole Hogs. Come check out our Farm Market,
Bundles and other updates can be seen on our Stafford Pork Facebook page or the news from the farm tab on Stafford Angus home page. Info for shopping by the piece can be found on news from the farm also.
Please make a selection in each section below. All fields are mandatory. When a pop up appears you will make a second selection. Chops will be 3/4" four to a pack and roasts 2-3 lbs unless otherwise noted
If you're ordering a whole hog you may put in one whole order or two separate half orders. Be sure to note in the comments you are ordering that way!
Any questions can be sent to StaffordPork@gmail.com. Thank you.